Top 10 Nolan Ryan Cards of All Time
Pitchers are often overlooked for the heavy hitters, and home-runners, but Nolan Ryan is an exception.
The undisputed all-time strikeout king of baseball, Nolan Ryan was elected into the Hall of Fame in 1999. Throughout his career he managed to accumulate a remarkable 7 no-hitters, and had the ability to dominate every game he was in. As such fans to this day continue to look for some of his best cards to add to their collection.
So which are Nolan Ryan's best cards?
---
10. 1993 Finest Nolan Ryan #107 Refractor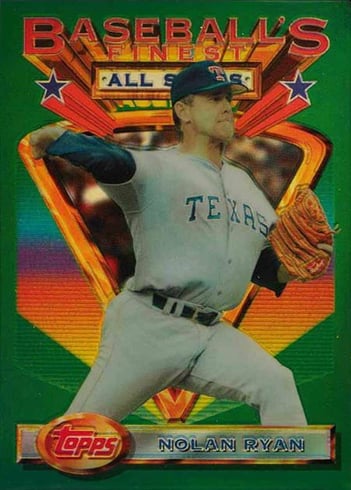 Starting off our list with a fan favorite among Texas fans, we have the iconic pitcher's first (and also his last) refractor card from the 1993 Finest set. 1993 marked the end of Nolan Ryan's MLB career, with the refractor card picturing the pitcher about to execute one of his famous fastballs. Highly graded versions of this card are very hard to come across, but if you do manage to find one, they command a high premium.
Out of over 110 cards submitted to PSA, only 8 were ever graded PSA 10. What is interesting however, is that no PSA 10 has ever been sold. The highest price paid for a 1993 Finest Nolan Ryan refractor was $4,200 for a PSA 9, in 2019.
9. 1977 Topps Nolan Ryan #650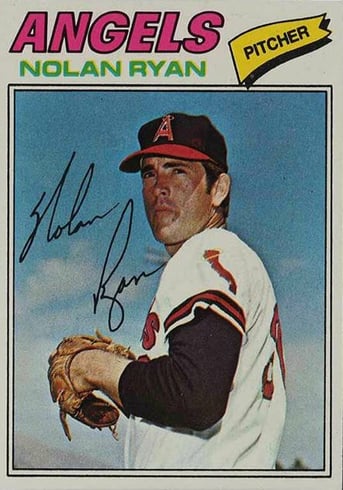 Picturing a focused Nolan Ryan ready to execute a massive pitch, the 1977 Topps card is number 2 on our list. Sporting his iconic Angels uniform accompanied by his signature to the left, this is one of our favorite designed cards. It is also extremely popular among fans and collectors, with many still trying to get their hands on one, even today. Despite its popularity though, finding a 1977 Topps Nolan Ryan in good condition might be harder than you think.
Over 3,000 cards have been submitted to PSA for grading, but only 19 were ever graded as PSA 10's. That is about 0.6% of the total population. The highest price paid for a PSA 10 was in 2009, where the card sold for $9,200 in January, 2021.
8. 1976 Topps Nolan Ryan #330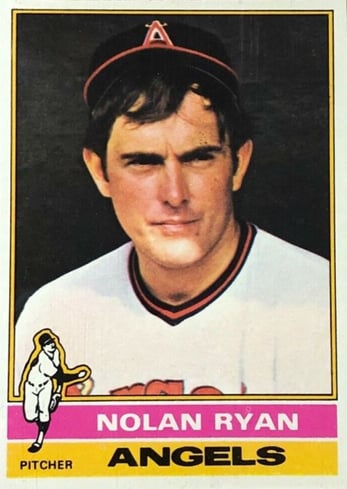 Contrasting the "happier" and "brighter" design of the card, the 1976 Topps card depicts the famous pitcher is a more focused pose, as he is worryingly staring at something in the distance. Despite the image not being the most appealing, there is still great demand, with highly graded cards being very hard to come across.
Out of over 4,700 cards submitted for grading, only 10 were ever PSA 10's. Rarity this high rightfully commands high price tags, with the most expensive 1976 Topps Nolan Ryan card being sold for $17,517 in 2021.
7. 1974 Topps Nolan Ryan #20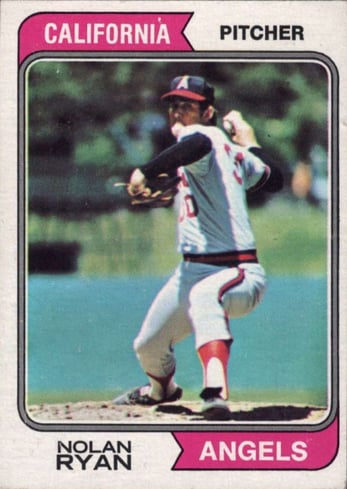 An iconic card for a truly memorable year. Nolan Ryan became the first Major League pitcher to have the speed of his pitch measured mid-game, but that not the only reason the pitch was so important. Despite not having state-of-the-art equipment, Ryan's pitch was measured to be 100.8 m/h just 10 feet off of the home plate. This exceeded Bob Feller's 98.6 m/h, previously thought to be the fastest pitch ever recorded. As for the card, it depicts Ryan about to execute his massive pitch in an in-game shot.
Despite its immense popularity, with over 4,400 cards being submitted for grading, only 6 have ever been PSA 10's. That is just 0.1% of the entire population. As such the highest price paid for a 1974 Topps Nolan Ryan card was $7,575 in 2017 during the 2016 Winter Rarities Auction by Memory Lane, Inc.
6. 1972 Topps Nolan Ryan #595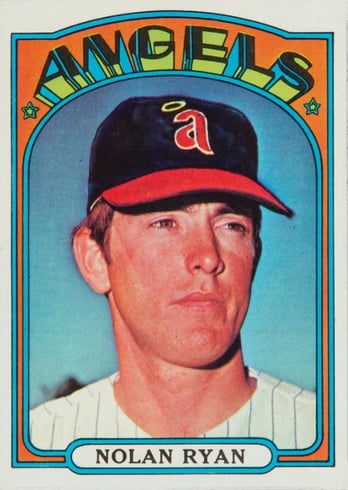 The 1972 Topps card depicts the pitcher during his first year playing for the Angels. Instead of a full-body action shot, we have a close-up of Nolan Ryan sporting a cap with the vintage Angels logo. The card design is also unique with Topps trying out different graphics and color combinations. These however stayed with 1972, as they were never reproduced in any of Topps' future sets.
Despite having a fairly large PSA POP report, out of the 4,500 plus cards graded, only 9 have ever been PSA 10's. The highest price paid for one of these PSA 10's was $7,800 in 2019.
5. 1971 Topps Nolan Ryan #513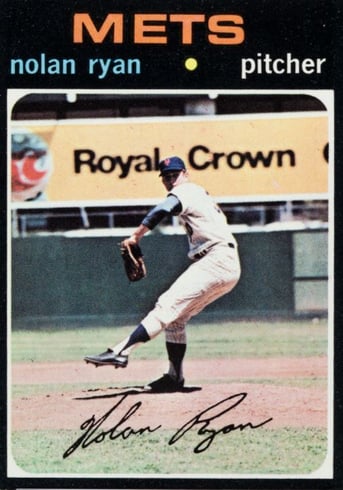 1971 marked the last year Nolan Ryan played for the Mets. Unfortunately for fans and collectors the 1971 Topps design was riddled with issues ranging from the black boarders (making the card extremely condition sensitive), to an out of focus image of the player mid pitch. As such collectors were not too keen on the last card to portray the pitcher in his Mets uniform. Having said that, cards in good condition do command a premium, even if the design was left many wanting more.
Out of over 4,200 cards submitted for grading, none have ever been a PSA 10. PSA 9's are also very scarce, at only 31. The highest price paid for one of these PSA 9's was $13,171 in 2020. It would be very interesting to see how high a PSA 10 might sell for (if ever found).
4. 1978 Topps Nolan Ryan #400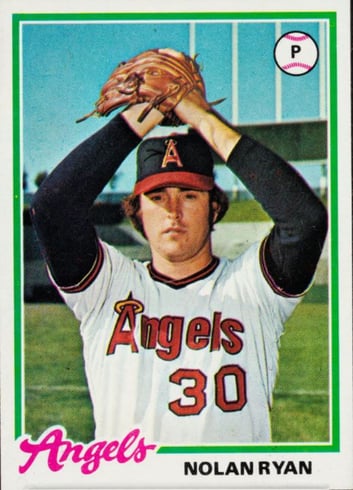 The 1978 Topps card is one of Nolan Ryan's rarer cards. The player is pictured winding up for a pitch, as he is looking straight into the camera. The thick border surrounding the portrait makes it seem as the ball is just going to be thrown right out of the card. An interesting design and a highly sought after card, finding one of these in mint condition is very hard.
In fact, out of the 3,100 plus cards submitted for grading, only 3 have ever been PSA 10's. The rarity of this card definitely commands a premium, with the only PSA 10 ever being sold going for $14,899 in 2019.
3. 1969 Topps Baseball Nolan Ryan #533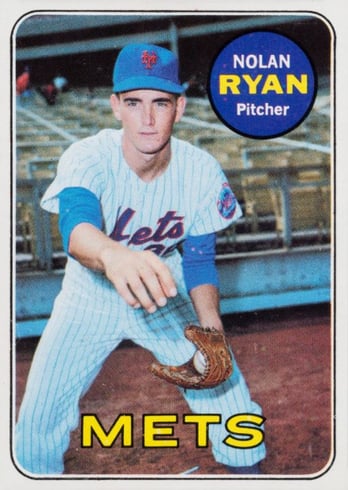 1969 Topps Baseball was Nolan Ryan's first mainstream baseball card, and his second ever appearance on a card. A very young Nolan Ryan is pictured in a pitching pose, sporting his iconic vintage Mets uniform. At over 50 years old, these cards are very hard to find in good condition, but when found they can definitely go for a premium.
In fact over 5,800 cards have been submitted to the PSA for grading, and just 2 have ever been PSA 10's. Out of these 2, only 1 was sold and yielded $20,100 in 2012 during the Mile High Card Company's October Auction.
2. 1973 Topps Nolan Ryan #220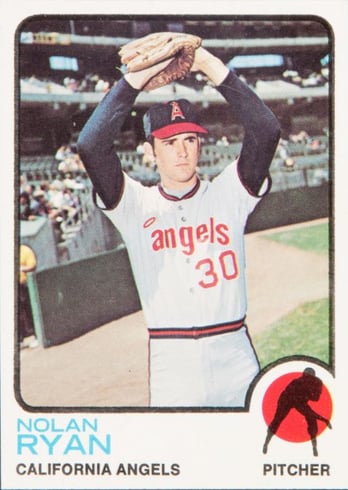 Picturing Nolan Ryan about to pitch during his second year in the Angels, this card is among the most liked cards of the pitcher. Everything from the crisp image, to the pose, the card has a very clean and appealing design. The 1973 card layout is also among our favorites of the hobby.
With over 3,700 cards graded, only 6 have ever been PSA 10's. The popularity, rarity, and appeal of this card certainly can drive prices up, with the highest price paid being $28,644 in 2009 during the Mile High Card Company October Auction.
1. 1968 Topps Nolan Ryan Rookie #177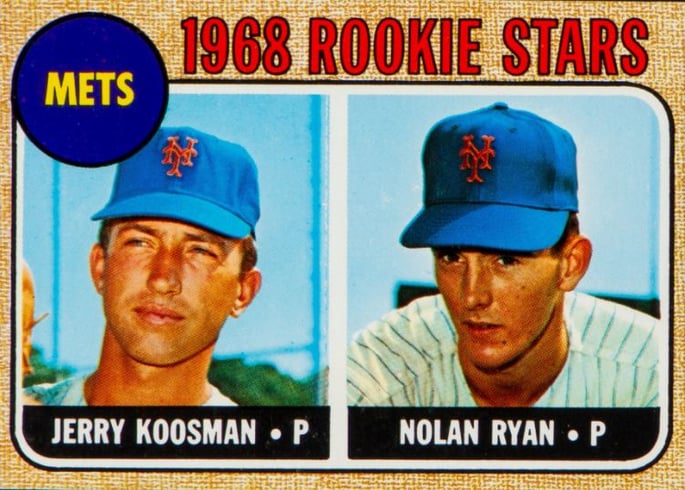 The number one spot undoubtedly belongs to the pitcher's one and only rookie card. As opposed to the rest of the cards on the list, the Nolan Ryan rookie card does have some notable "downsides". For one, he shares the card with fellow pitcher Jerry Koosman, a characteristic share by most rookie cards of the era. Because of this, the card is aligned horizontally, which does decrease display appeal slightly. Despite these notable "negatives" however, demand for the card continues to soar to this day, making finding a high graded Nolan Ryan rookie extremely hard.
Out of over 10,000 cards submitted for grading, only 1 has ever been a PSA 10. This particular Nolan Ryan rookie sold for $600,000 during the Goldin Elite Auction Session 2, in August, 2020.
Which is your top Nolan Ryan card? Which one(s) would you add to the list? Let us know in the comments below!
---
Want to continue reading? Here are a few posts you might find interesting:
1989 Ken Griffey Jr. Rookie: The Improbably Foresight Of Upper Deck
Derek Jeter Rookie Card: Which To Focus On?